"Bloody hell, is that it?!"
This article is a stub. You can help out the That Mitchell and Webb Wiki by expanding it.
Thank you!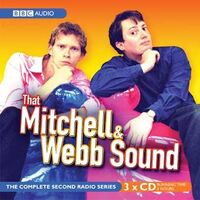 That Mitchell and Webb Sound is a comedy sketch show on BBC Radio 4 which started on 28 August 2003. A second series was broadcast in 2005 with a third starting on 24 May 2007.
The series became adapted for television as That Mitchell and Webb Look in 2006. The series is seen in some ways a follow-up to The Mitchell and Webb Situation, a sketch show shown on Play UK in 2001. That Mitchell and Webb Sound returned to BBC Radio 4 for a fourth series in 2009, the first episode broadcasting on 25 August 2009.