This is the third episode of the second series of That Mitchell and Webb Look. It is the ninth episode overall. It originally aired March 6th, 2008.[1]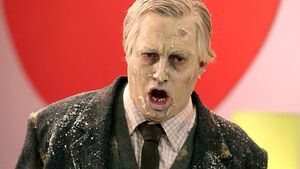 Off-beat comedy sketch show starring David Mitchell and Robert Webb. A farmer tries to teach his horse French; a robot nearly manages to smell cheese; there's a chance to see the exciting new reality TV show Back to Life, a bit like Big Brother but with re-animated corpses; plus a sensitive documentary about Alan and his nineteen penises. [2]
Sketch List
Edit
Picture
Title/Description/Cast
Sidenotes

Work in the Mines
A new employee has a hell of a lot of mining to do to climb the corporate ladder.

Helivets: Hamster
Recurring: The Helivets try to save a hamster.

Helivet #1: David Mitchell
Helivet #2: Robert Webb
Concerned Mother: Olivia Colman
Concerned Child: Imogen Byron

Lazy Writers: Cricket
Recurring: The lazy writers present the highly-inaccurate cricket underdog story of the Pisswiddle Steelbatters.

Arthur / Announcer #2: Robert Webb
Cricket Coach / Announcer #1: David Mitchell
Cricketer #2: James Bachman
Pete: Unknown
Cricket Executive / West German Cricketer: Mark Evans
Token Girl Cricketer: Laura Aikman

The Surprising Adventures of Sir Digby Chicken Caesar: The Countess
Recurring: Sir Digby and Ginger confront The Countess for conspiring with his nemesis.

Sir Digby Chicken Caesar: Robert Webb
Ginger: David Mitchell
The Countess: Olivia Colman
Museum Tour Guide: James Bachman
Security Guard: Mark Evans

Sensitive Freakshows: The Man With 19 Penises:
Recurring: A television programme presents a documentary about a man with 19 penises.

Alan: Robert Webb
Narrator: David Mitchell

Advert Song:
Two Admen struggle to figure out the proper tunes to advertise television programmes and commercials.

Adman #1: Robert Webb
Adman #2: James Bachman
Advertising Executive: David Mitchell

Cheesoid:
Runner: After a soup chef gets fired for losing his sense of smell, he creates a robot to smell food for him, though to limited success.

Chris: David Mitchell
Restaurant Manager: Robert Webb
Punching Guy / Pete: Mark Evans
Cheesoid (Voice): Unknown

Back to Life, Back to Reality:
Four improperly-unthawed corpses from the 1940s are thrown into a reality show.

Howard P. Getty: Robert Webb
Professor Von Straussenburg: David Mitchell
Walt Disney: James Bachman
Colonel Sanders: Mark Evans

Farmer and Horse: Je m'appelle Horse
Recurring:A farmer struggles to teach his horse French.

A Cup of Tea for Everyone in Belgium:
A self-important comedian talks about his new show's goal of making a cup of tea for everyone in Belgium.

Phil Gaellos: Robert Webb
Show Host #1: David Mitchell
Show Host #2: Barunka O'Shaughnessy

Robert Webb's character is a parody of British comedian Dave Gorman, famous for pulling similar stunts.
The police car in the background says "politie" - police in Dutch. That would mean that Phil was in Flanders, where his attempts at French would be particularly useless.

Cheesoid: Part II
Runner: Cheesoid's inability to differentiate cheese and petrol cause some issues.

Chris: David Mitchell
Cheesoid: Unknown

Behind the Scenes: Cheese Argument
David and Robert get in an argument over how cheese is made.

David Mitchell: Himself
Robert Webb: Himself
References
Edit
Community content is available under
CC-BY-SA
unless otherwise noted.